Be There
Mind. Body. Spirit.
What
evah.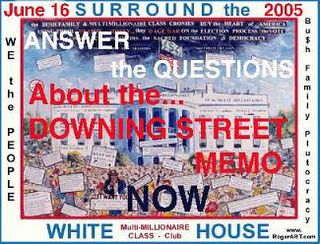 On Thursday June 16, 2005, from 2:30 p.m. to 4:30 p.m. in Room HC-9 of the U.S. Capitol, Rep. John Conyers, Jr., Ranking Member of the House Judiciary Committee, and other Congress Members will hold a hearing on the Downing Street Minutes and related evidence of efforts to cook the books on pre-war intelligence.

[snip]

Later on the same day at 5:00 p.m. ET in Lafayette Square Park, in front of the White House, a large rally will support Congressman Conyers who plans to deliver to the White House a letter addressed to President Bush and signed by over 500,000 Americans and at least 94 Congress Members. The letter asks the President to respond to questions raised by the Downing Street Minutes.
The hearings will be shown on C-SPAN 3 AT 2:30 P.M. EASTERN TIME today. Watch it!