They Have Tanks
About the election being stolen or rigged or whatever,
Emdee
wrote:
For the record, I think the conspiracy theories could easily be true. It's a bit hard to believe the exit polls across the country could all have been so wrong. But it doesn't make any difference. If an election is at all close, the Republicans will fight like junkyard dogs, and the Democrats won't. So it will always go to the ones who will fight the hardest.

[snip]

Face it kids. You're outmatched. Swords and badminton racquets can't beat brass knuckles and switchblades.
That being true, how do we on the left beat back
tanks!
LOS ANGELES, November 9, 2004 - At 7:50 PM two armored tanks showed up at an anti-war protest in front of the federal building in Westwood. The tanks circled the block twice, the second time parking themselves in the street and directly in front of the area where most of the protesters were gathered. Enraged, some of the people attempted to block the tanks, but police quickly cleared the street. The people continued to protest the presence of the tanks, but about ten minutes the tanks drove off. It is unclear as to why the tanks were deployed to this location.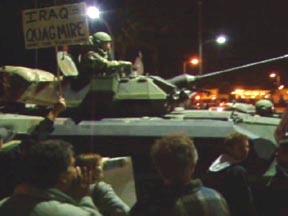 Our period of mourning is over. The streetfight has begun, and we need to be fully aware that they are bringing tanks to this fight.
What is America, the Land of the Free, becoming? A nation of Tiananmen Squares?!
This is not good, people. Not. Good. At. All.
Blonde nod to
Americablog.