Candy Weighs In
My dislike of Candy Crowley has reached its pitch. Ever since she smugly claimed "we did that" during Howard Dean's speech, the night he ended his presidential campaign ("that" being the media tear-down after the build-up), and every day since that she ass-kisses Team Bush cuz if she doesn't, no press pass for her fat, ugly ass, my disdain for her has grown. It's is now an entity.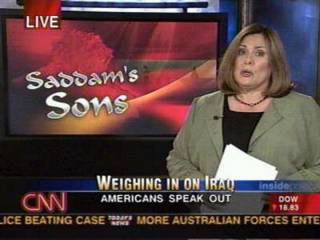 So, what's Candy
weighing
in on now, besides about 230lbs?
Green Tea.
During a luncheon speech Monday to the Forum Club of the Palm Beaches, CNN political correspondent Candy Crowley shared an early memory from the campaign trail that may explain why John Kerry will not be president next year.

In January 2003, when his campaign was still young enough that Kerry would actually sit down with reporters in a relaxed setting, he and Crowley met for breakfast at the Holiday Inn in Dubuque, Iowa. "I'd like to start out with some green tea," Kerry told the waitress, who stared at him for a moment before responding, "We have Lipton's."

Lipton's would be fine, Kerry said, but the memory stayed with Crowley. "There were many green tea instances," she told the sell-out crowd of 450 at the Kravis Center's Cohen Pavilion. "There's a very large disconnect between the Washington politicians and most of America and how they live. Bush was able to bridge that gap, and Kerry was not."
I knew Candy was a lazy-ass media whore, but I didn't think she was completely stupid. Ha! I learn somethin' new every day:
This smackdown brought to you by Alterman's
Correspondents' Corner:
Name: Tom Andersen
Hometown: Pound Ridge, NY

Eric,

Have you ever noticed on cold nights at Yankee stadium, when the TV camera focuses on Joe Torre, he's sipping a hot beverage? That hot beverage is green tea. Joe drinks it because he's been treated for prostate cancer, and green tea has antioxidants that are believed to be protective against prostate cancer. John Kerry, that green-tea-drinker, also has been treated for prostate cancer. I drink green tea for the same reason.

Next time someone sees Candy Crowley, can you pass this on?

Name: Dennis Croskey
Hometown: Kansas City, MO

The Candy Crowley piece on Kerry's disconnect with the heartland because he drinks green tea is about the stupidest thing to come out of the press coverage of this campaign, and that's saying a mouthful. The slightest bit of research would reveal that Kerry's father died of prostate cancer, and Kerry himself had surgery for prostate cancer a year or two (?) ago. Green tea is one of the best things you can put in your body for a healthy prostate. Modifying your diet for health concerns? Just another one of those liberal elitist things, I guess.
Maybe that's why Candy's clueless about green tea ... she has no idea what "modifying your diet for health concerns" means.
Dr. Atkins? Paging Dr. Atkins...oh, yeah, he's dead. Jenny Craig? Paging Jenny...