Bushy, You Have Some 'Splainin' To Do
Now that last night's disgusting performances by Zell Miller and Dick Cheney have all but crushed Bush's chances for election, YT is looking forward to Team Kerry and their peeps throwing salt on the GOP's gaping wounds. Tit for tat and all that.
Bush plays dress-up:
A closer examination of a photograph included in President George W. Bush's Air Force records, released by the White House earlier this year, shows then-Second Lieutenant Bush wearing an Air Force Outstanding Unit Award which he never earned.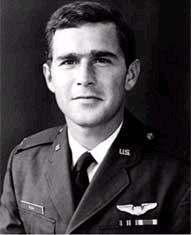 Liaaaaaaaaaaaaaaaaar!

Additionally, Lieutenant Bush would not have been authorized to wear the ribbon temporarily, the Air Force Personnel Center said in an email.

"There isn't a 'temporary' wear of AF Outstanding Unit Awards for AF personnel," the Air Force Personnel Center stated.

"I've never heard of temporary wear," added Assistant Reagan Defense Secretary for Manpower, Reserve Affairs, Installations and Logistics Lawrence J. Korb, whose job included overseeing the Air Force Reserves from 1981-1985, in a telephone interview Wednesday. "The unit didn't get this until 1975."

The Air Force Public Affairs office tried to answer an inquiry, but went silent and said they just didn't have enough information to answer after they heard the query was on President Bush. They deferred comment to the White House, and supplied the White House comment phone line.

RAW STORY reached the White House Press Office through the main switchboard, and a spokeswoman said they would look into it and return the call as soon as possible.

"We're very short staffed this week," she said, referring to the Republican National Convention.

[snip]

Punishment for wearing an award one hasn't earned is punishable by bad-conduct discharge, forfeiture of all pay and allowances, and/or confinement for 6 months under the Uniform Code of Military Justice.
Nice. I'd love to see Bush locked up at Gitmo for 6 months. Dare to dream.... But wait, there's more. Ben Barnes, the man who helped Bush get a coveted slot in the TANG is
breaking his silence
next week on 60 Minutes II. Let the shit-storm begin. Bush is now going to be "the one answering uncomfortable questions about his past service." And the swing voters will be listening.
Blonde nod to
Hoffmania.