Girls Gotta Do
Oooooooooo. Talk about a Melvin. The
Axis of Eve
is set to expose Bush one panty at a time.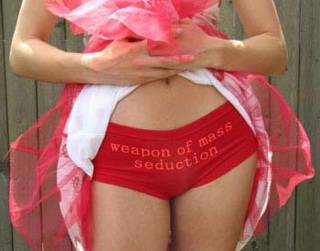 Expose and Depose

The Axis of Eve is a coalition of brazen women on a mission to EXPOSE and DEPOSE President Select George W. Bush and his deceitful administration. Convinced that effective political action can be irreverent and exciting, we have launched a titillating campaign of TRUTH-FLASHING coordinated around our provocative line of protest panties.

This campaign will culminate at the Republican National Convention in NYC in September, where over 100 Eves and Adams will perform a MASS FLASH (of our protest panties) to create a media spectacle that lays bare the shameful tactics of the Bush administration and boldly demands an end to political cover-up.
And the GOP thought the
anarchists
would get Republicans' blood pumping.
Even YT's anti-protest friend,
DaveD
could get behind these behinds, right, DaveD?