Rock On
The two Js are taking back America by storm, getting the
rock star treatment
in
Cleveland
.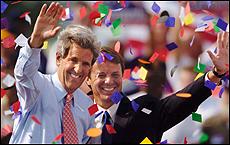 John John

The rough-around-the-edges city of Cleveland may not have been the most obvious place for a presidential candidate and his newly minted running mate to launch their tag-team bid for the nation's highest office, but from the moment John Kerry and John Edwards arrived shortly before noon local time, the crowd of hundreds treated them like rock stars. There was screaming, a band, placard-waving and even one or two cases of fainting.

Fainting?! YT knows that JohnE is hot hot hot, but fainting?
Okay.
"Together we are going to end the Bush presidency," yelled a beaming Kerry on a stage set up in a city centre park. "Together, over the next 120 days, we are going to fight for the America we believe in."

[snip]

"In 1879 something happened in Cleveland," continued Kerry. "You may not know ... the public square was lit by electric street lights, the first city in America to get this. Today you are the first city to get a different kind of electricity - Senator John Edwards."

Power to the People!