Moore Neil Moore Neil
In a last minute coup,
IFP's Los Angeles Film Festival
(running June 17-26) snagged Michael Moore's Palme d'Or-winning docu "Fahrenheit 9/11" for a screening slot. Pic will screen on June 22, three days before the film opens nationwide.
But that's not the good news. The good news -- the great news -- is:
...Moore recently secured Young's song "Rockin' in the Free World" to play over "Fahrenheit's" closing credits.

While Moore isn't expected in Los Angeles for the screening, Young will be on hand to introduce the pic.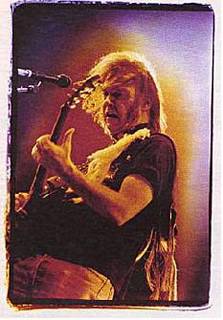 Neil Young Rocks!

"We think it's a great venue for the film," said Lions Gate Films Releasing prexy Tom Ortenberg, who has been inundated with hundreds of special screening requests since taking on the pic's distribution. "Nobody works harder to promote independent film than the IFP, so playing 'Fahrenheit 9/11' as presented by Neil Young at the L.A. Film Festival seemed like a perfect fit to launch the film's release in Los Angeles."
Neil has always avoided endorsements. Remember: He ain't singin' for Pepsi. He ain't singin' for Coke. But he'll sing to boot Bush from office.
YT is practically swooning! What a way to begin the weekend. Peace out.