Another Big O
Fahrenheit 9/11
won another Standing Ovation from an audience of film industry pros who know greatness when they see it.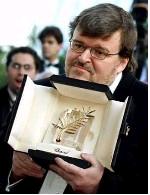 Bush Burner

After an audience of more than 600 people in the theater of the Academy of Motion Picture Arts and Sciences cheered, whistled and laughed their way through the two-hour film, they jumped to their feet to give Moore a standing ovation as he took the stage.

Clearly buoyed by the reception, Moore, whose film is scathingly critical and mocking of President Bush, declared: "There has been a shift in this country. ... The average American is finally beginning to figure it out. We were duped (into invading Iraq)."

"I hope this country will be back in our hands in a short period of time," he added.
Me, too, Michael.