al Cicada?
Aces Full of Links
explains Bush's recent encounter with an IMD.
Emboldened by the emergence of "brood x" or perhaps in some sort of berserker-frenzy at the smell of blood from the president's recent face plant. Whatever the reason for this little insect's moment of supreme cheek, it took flight, menacing the president's airspace.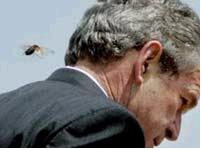 Insect of Mass Destruction

Bush immediately declared it a "terrist," causing hurt feelings. It turns out the cicada was a Reagan-voter 17 years ago. Nonetheless, Bush called for a no fly zone to be established. Aides nearby did not bother to explain the difference between a fly and a cicada because...well, what's the point, really?